Webinar on Research Ethics
Friday, January 10, 2020 | 3 PM - 4 PM IST
IndiaBiostreams is happy to announce a webinar on research ethics on Friday, January 10, 2020 from 3 PM - 4 PM IST.
Join us for a live and moderated discussion with leading researchers on ethical practices in research. The topics covered will include purity of data, publications and plagiarism. This discussion will be broadly based on the "National Policy on Academic Ethics" document that was issued by the office of the Principal Scientific Advisor (PSA) to Government of India in the year 2019.
K.VijayRaghavan, PSA, Government of India will give an overview of the importance of research ethics. This will be followed by a live discussion by Mukund Thattai (NCBS, Bangalore), Sunil Mukhi (IISER, Pune), and Saman Habib (CDRI, Lucknow). The session will be moderated by Rashna Bhandari (CDFD, Hyderabad).
Register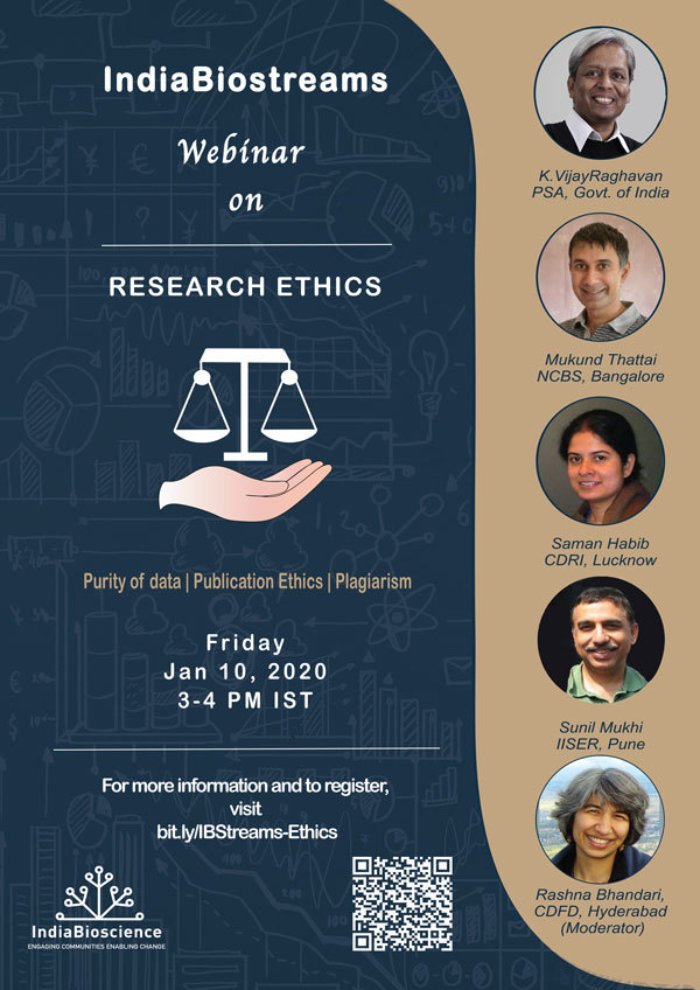 Webinar on EMBO Fellowships
Thursday, January 16, 2020 | 3 PM - 4 PM IST
As research is progressively occurring in the international arena, India is keen to align with international funding agencies that reflect this shift. This has opened the doors for Indian researchers working in the field of life sciences to a large number of international funding schemes.
IndiaBiostreams, in partnership with Wellcome Trust/DBT India Alliance, is happy to announce the launch of a webinar series on International Research, Training and Mobility Grants Awareness Sessions to discuss such funding opportunities. We begin this series with a look at the EMBO funding schemes open to Indian life science researchers.
Join us for an informational session on EMBO Fellowships featuring presentations and s discussion with experts- Gerlind Wallon (Deputy Director), Bettina Trueb (Senior Project Coordinator) and David del Alamo Rodriguez (Programme Head Fellowships)- from EMBO. The topics discussed will include eligibility, benefits, themes and mentorship opportunities of these schemes.
This session which covers Postdoctoral, Short-term and Advanced Fellowships will be especially useful for senior PhD students and Postdocs.
Register