Farewell to Shantala Hari Dass
Dear Community,
This month marks a new transition for IndiaBioscience!
After 3.5 years with the organisation, Shantala Hari Dass, Executive Director, IndiaBioscience will be moving on to pursue new challenges and opportunities abroad. She hands over the baton to Karishma S Kaushik, who is starting as the new Executive Director at IndiaBioscience.
Let's hear from the IBS Team and Board, Shantala and Karishma on this new transition.
A short message from the IBS Team and Board
Under the leadership of Shantala Hari Dass, IndiaBioscience has flourished, becoming a powerhouse in the scientific landscape of India. Despite the challenges posed by the pandemic, Shantala led with innovation, grace, and composure, keeping the team motivated and driving the organisation to new heights. Her contributions will always be cherished, and we wish her the very best in her future endeavours.

As we bid farewell to Shantala, we are excited to welcome Karishma Kaushik as the new Executive Director of IndiaBioscience. With her extensive experience as a physician-scientist and a passion for facilitating the scientific ecosystem in India, we have no doubt that Karishma will lead IndiaBioscience to even greater heights. Congratulations, Karishma, and we look forward to the exciting journey ahead!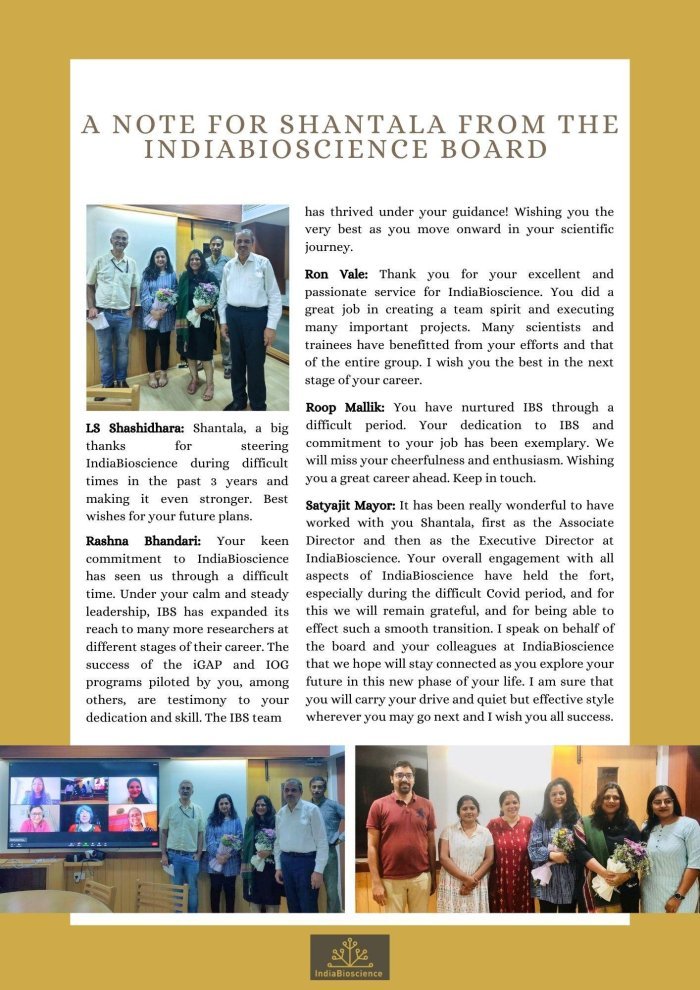 A short note from Shantala
In June 2019, I was wrapping up my postdoc. In the four-ish years between, I have had an opportunity to undertake a very gratifying and fruitful journey of professional and personal growth. After spending an amazing 3.5 years at IndiaBioscience, I have decided to move on (and many miles away).
As for many of you in the community, the last few years have brought the anticipated. It has been both challenging and immensely rewarding to sustain and grow an organisation in unpredictable times. But when the going gets tough, the tough get going. Together with an amazing board, stellar team and a far reaching community of scientists, science professionals, students, and more IndiaBioscience has grown! We recently entered a new phase of operations, conducted our 15th Young Investigators' Meeting and have brought on board some new and very talented team members. It has been wonderful to meet and interact with so many in the community and abroad, whether through a zoom window or in-person, and I hope we all can continue to cultivate and promote a strong scientific temperament in our work and lives.
As I pass the baton to Karishma, I am thrilled to see her take the helm at IndiaBioscience. She has already done some phenomenal work in engaging and facilitating the community, and I am confident that she will continue to lead IndiaBioscience onwards and upwards! You can reach me at shantalaharidass[at]gmail[dot]com.
Welcome Karishma S Kaushik
LS Shashidhara: Welcome Karishma. IndiaBioscience is looking forward to your leadership. I am sure you will set the stage to make IndiaBioscience a stable and forward looking organisation to serve a diverse community of Indian biologists.
Rashna Bhandari: Welcome to IndiaBioscience! You bring with you a multitude of experiences and boundless enthusiasm. I look forward to seeing IndiaBioscience grow under your leadership. Cheers!
Ron Vale: We are very happy that you decided to join IndiaBioscience. There is much that you can do through your leadership to benefit life scientists throughout India, particularly early career researchers. I and the rest of the IndiaBioscience board are looking forward to working with you.
Roop Mallik: IndiaBioscience looks forward to your enthusiastic leadership in the coming years. We are sure you will enjoy this challenge, and will work closely with all of us to expand IndiaBioscience in new and imaginative ways. All the best!
Satyajit Mayor: It is very great excitement and enthusiasm that I would like to warmly welcome you, Karishma, to IndiaBioscience. We are all looking forward to engaging with you and your ideas as well as your plans and aspiration for IndiaBioscience 3.0.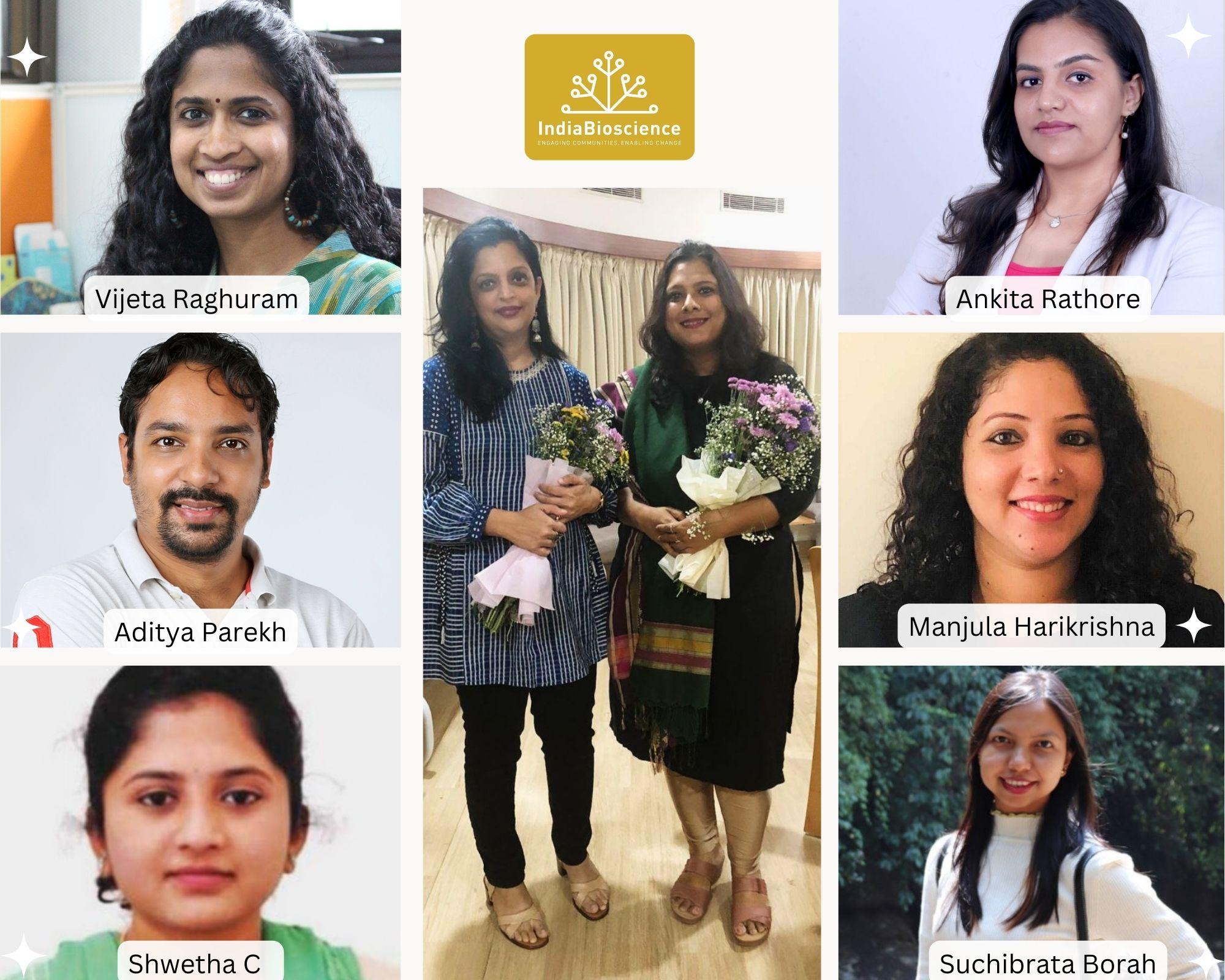 A short note from Karishma
As a young investigator who had recently returned to India, I experienced first-hand the impact of IndiaBioscience at YIM 2019 Guwahati. Subsequently, my association with the organisation took on various roles and forms, as an organiser for YIM 2021 (virtual), a mentor at YIM 2022 (virtual), a recipient of the IndiaBioscience Outreach Grants, in addition to being a part of a range of community-building initiatives. After five years as an independent investigator, I was looking for a large and impactful leadership role in the science ecosystem in India. For me, being a part of the IndiaBioscience team is a tremendous opportunity to bring together my professional capabilities and deep commitment to science in India. I am excited that I get to do this with a stellar set of colleagues at the IndiaBioscience Team and Board, and an expanded set of scientists and researchers, science communicators, public engagement professionals, policy colleagues, and funding agencies, institutes and organisations across India. Expanding the impact of IndiaBioscience by leading the program, building new initiatives, and enabling partnerships to bring together communities across India and between India and the world, will be a professional mission. I look forward to working with and for the wider science ecosystem in India! You can reach me at karishma[at]indiabioscience[dot]org.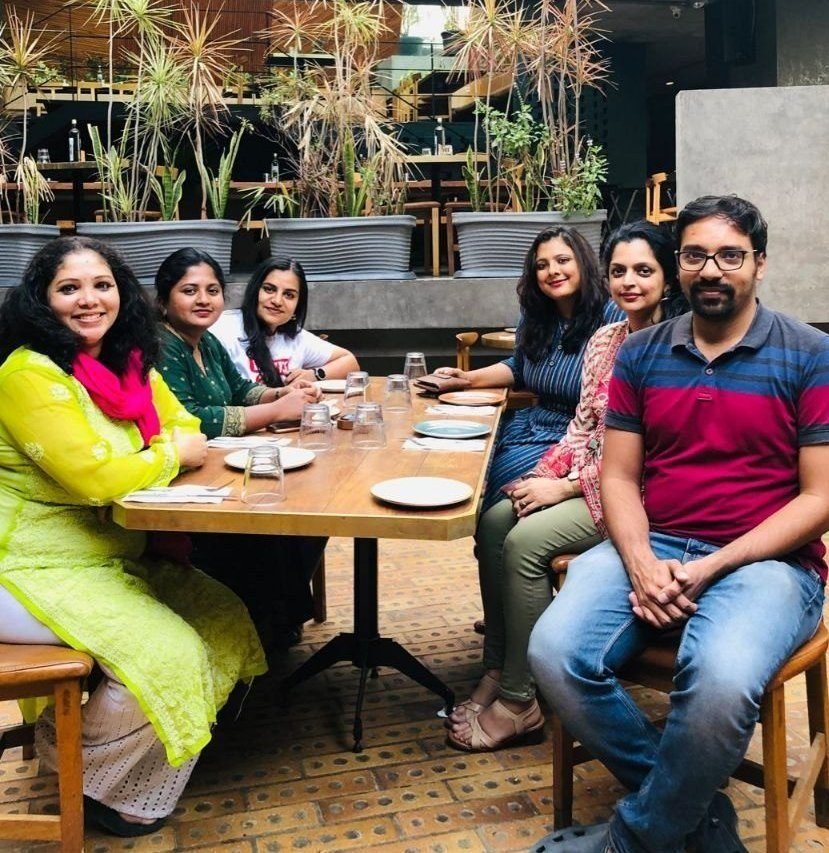 | | | | | | | | | |
| --- | --- | --- | --- | --- | --- | --- | --- | --- |
| IndiaBioscience Team | | | | | | | | IndiaBioscience Board |
| Aditya Parekh | | | | | | | | LS Shashidhara |
| Ankita Rathore | | | | | | | | Rashna Bhandari |
| Karishma S Kaushik | | | | | | | | Ron Vale |
| Manjula Harikrishna | | | | | | | | Roop Mallik |
| Suchibrata Borah | | | | | | | | Satyajit Mayor |
| Shwetha C | | | | | | | | |
| Vijeta Raghuram | | | | | | | | |
+ Past IndiaBioscience team members (Anjali Vaidya, Arnab Chakraborty, Athulaprabha Murthi, Deepti Chandraprakash, Harini Barath, Lakshmi Ganesan, Manoj Ranjan, Manupriya, Nandini Rajamani, Navodita Jain, Reeteka Sud, Shantala Hari Dass, Shreya Ghosh, Smita Jain, Swetha Suresh, and Zill-e-Anam)