YIM 2024
Dear reader,
We're excited to share the news about the upcoming 16th Young Investigators' Meeting (YIM) taking place in the vibrant heart of Madhya Pradesh in March 2024.
The applications are now open for the Young Investigator Meeting 2024 (YIM 2024), which will be held at Courtyard by Marriott, Bhopal and The Indian Institute of Science Education and Research (IISER), Bhopal, Madhya Pradesh, from 11-15 March 2024.

YIM 2024 is a unique meeting, dedicated to mentoring early independent researchers and guiding them towards prosperous careers in India. If you're a faculty member within the first five years of establishing your lab or a postdoctoral fellow with plans to establish your lab in India in the near future, this event is tailor-made for you.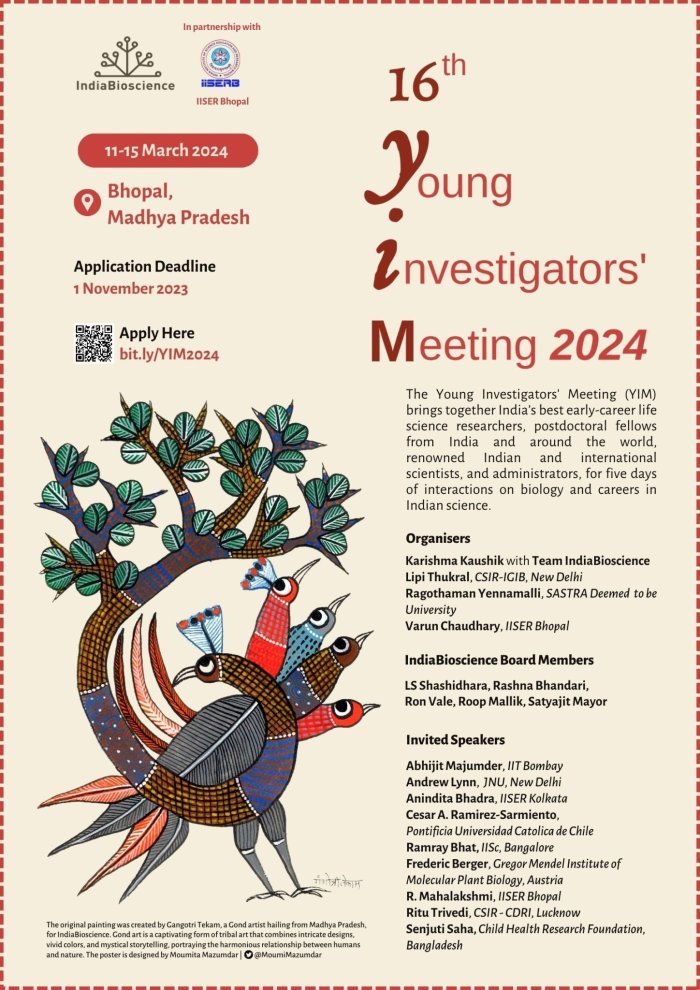 The annual Young Investigators' Meeting (YIM) brings together a gamut of professionals across the scientific research ecosystem. YIM 2024 has been meticulously crafted to facilitate networking among participants. This event provides a unique platform for attendees to share their journeys and integrate into the expansive scientific community that YIMs inherently nurture. YIM 2024 will feature mentor talks by renowned scientists, special talks on a range of science topics, poster sessions, interactive workshops, icebreaker sessions, round table discussions and networking events.
Young independent investigators in India and postdoctoral fellows aspiring to establish their research groups in India are invited to join YIM 2024. To be part of this enriching experience, interested individuals must complete the application process by November 1, 2023.

For more details regarding the meeting, eligibility criteria, and application process, kindly visit the meeting website: bit.ly/YIM2024.
Feel free to share this invitation with your friends and colleagues who may find attending YIM 2024 of great interest. If you have any queries or require further assistance, do not hesitate to reach out to us at yim2024[at]indiabioscience[dot]org.

Introducing the Mentors for YIM 2024
We're thrilled to present our Indian and international mentors who will be part of the 16th Young Investigators' Meeting in Bhopal. These mentors will bring a diverse range of experiences and expertise to YIM 2024 and we're excited to see the positive impact they will have on our YIs and PDFs.

Mentors from India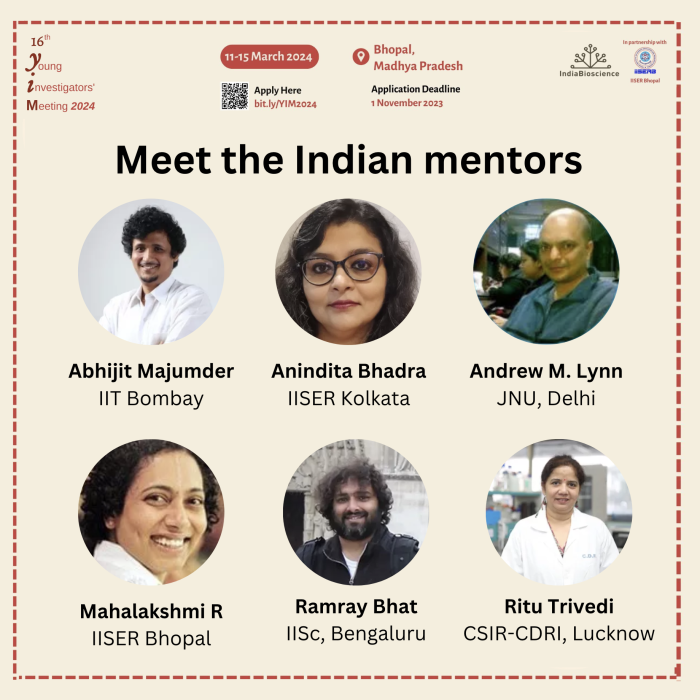 International Mentors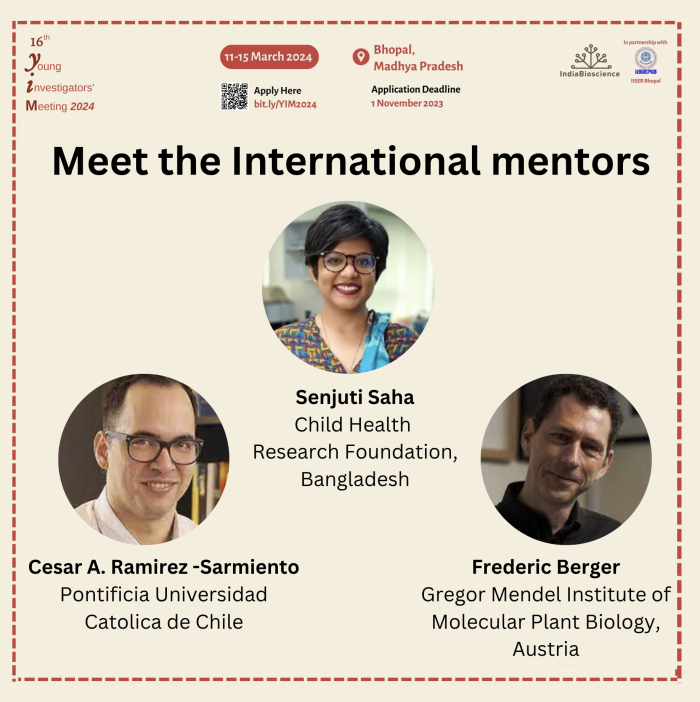 Informational webinar on YIM 2024
We also hosted a YIM 2024 informative webinar on October 17, 2023 to address all your queries about what you can expect from YIM 2024. In case you missed it, don't worry! You can access the recording here. We understand that you might have questions about the event, and this webinar is designed to ensure that you have all the information you need to make the most of your YIM 2024 experience.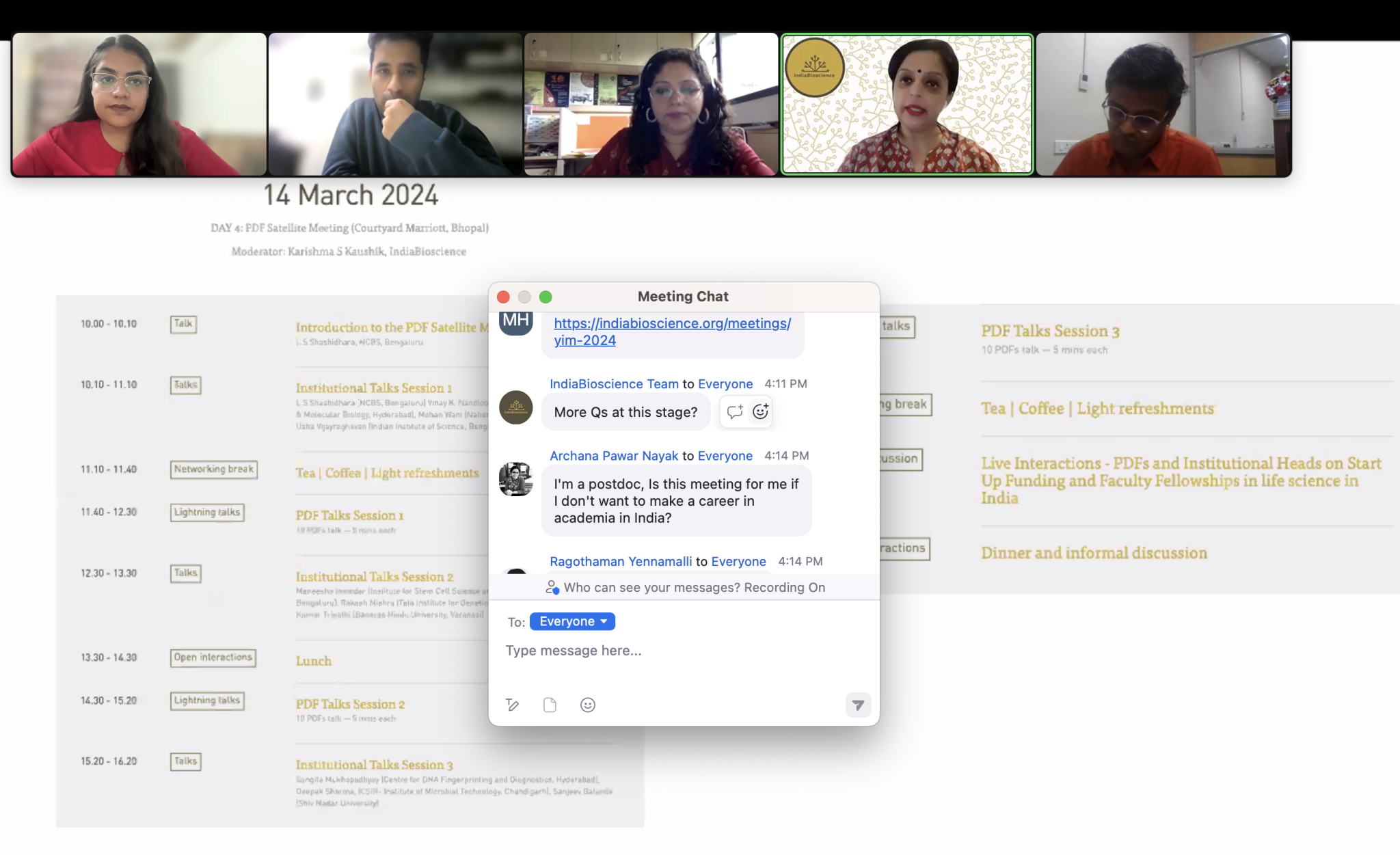 New article series leading upto YIM 2024
In this new series, leading up to Young Investigators' Meeting (YIM) 2024, researchers who have attended YIMs from the past tell us about what it was like for them back then, what they took away from the experience, how things have changed, their ideas for future YIMs, and tips for the newest generation of life scientists gearing up for their first meeting.
The first one is with Anil Challa, who is a molecular geneticist with a special interest in education and outreach. He attended the first ever YIM in 2009 and shared his experience with Nandita Jayaraj.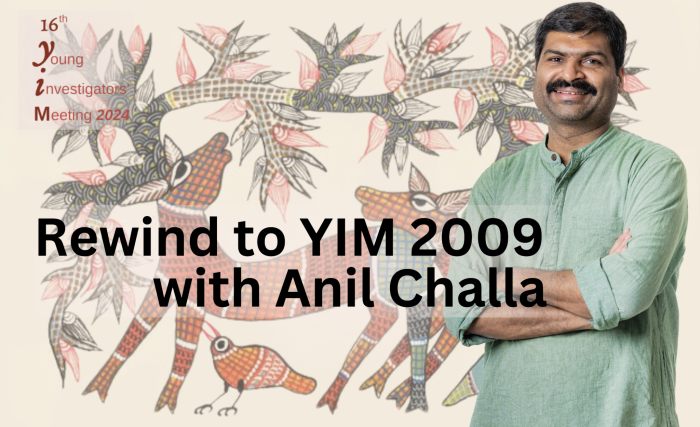 Behind the scenes of YIM 2024!
We're working tirelessly to make this event an unforgettable experience for all attendees. Stay tuned for exclusive glimpses of the preparations, the passionate team behind it all, and the excitement building up as we approach YIM 2024. It's going to be an event like no other, and we can't wait to share the journey with you.

A sneak peek into the behind-the-scenes planning for YIM 2024.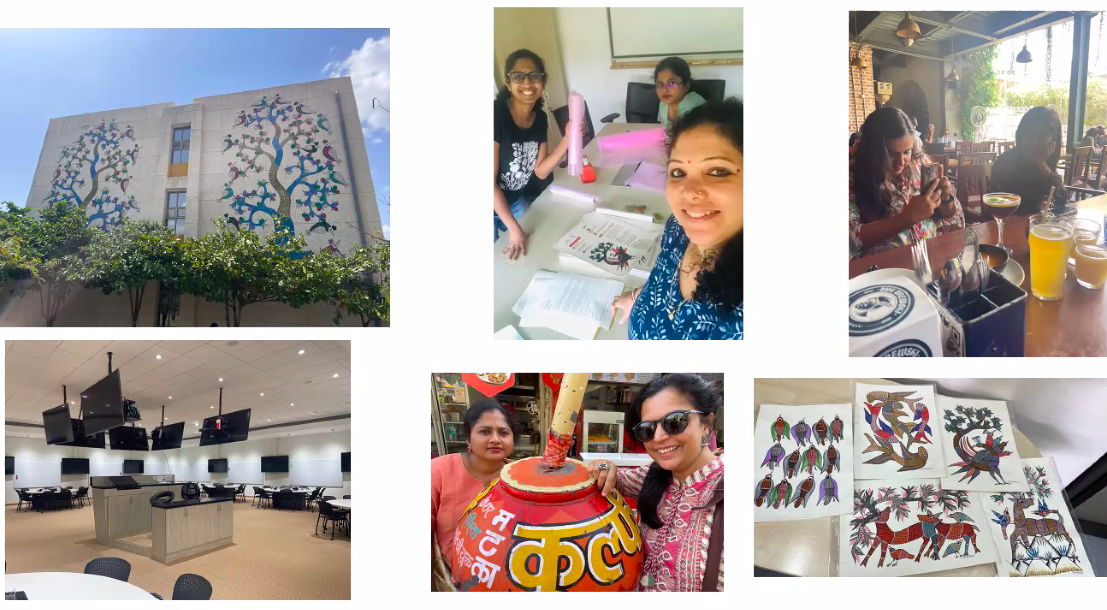 Apply soon, the last date is November 1, 2023. And for more details, kindly visit the meeting website: bit.ly/YIM2024. See you at YIM 2024 in Bhopal!