YIM2023
Dear Reader,
We are pleased to announce that Young Investigators' Meeting (YIM) is back in an in person format!
The applications are now open for the 15th Young Investigator Meeting (YIM2023), which will be hosted jointly by Indian Institute of Technology Gandhinagar and Ahmedabad University, Gujarat from 13 -17 February 2023.

YIM2023, is an unique meeting that focuses on mentoring young scientists, helping them launch successful careers in India. If you are a young faculty within five years of setting up your lab or a postdoctoral fellow who is planning to set up your lab in India in the near future, this meeting is for you.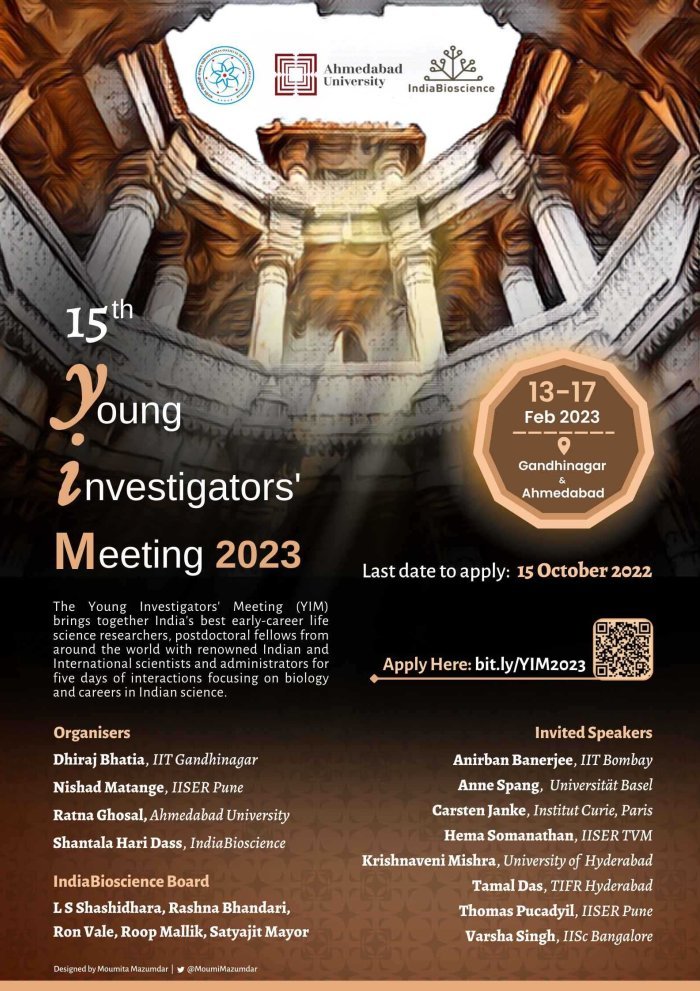 The annual Young Investigators' Meeting (YIM) brings together a gamut of professionals across the scientific research ecosystem. The YIM 2023 has been designed in such a way that it will enable the participants to network and forge connections. It will also give them the opportunity to share their experiences and become a part of the larger scientific community, which the YIMs are already known to cater to. It will feature talks by senior scientists, networking sessions, and panel discussions.

Young (independent) investigators in India and Postdoctoral fellows intending to set up a research group in India who wish to participate in YIM 2023 must complete the application process by 15 October, 2022.
Those who have participated in the virtual YIM 2021 or YIM 2022, can reapply for YIM 2023 in the same category - if they meet the other eligibility criteria.

For more information on the meeting, eligibility and application, visit the meeting website: bit.ly/YIM2023.

Please share this with your friends/colleagues who may be interested in attending. If you have any questions, please feel free to contact us at yim2023@indiabioscience.org