Pedagogy workshop (
RBPT

, Level 2) for

UG

,

PG

science

&

maths teachers
Event Details
Indian Institute of Science Education and Research (IISER), Pune, in collaboration with St. Joseph's College (Autonomous), Bangalore , is organising a pedagogy workshop for teachers of UG/PG science and mathematics courses across India, from October 4 – 6, 2017 at Ashirvad Bhavan, Bangalore.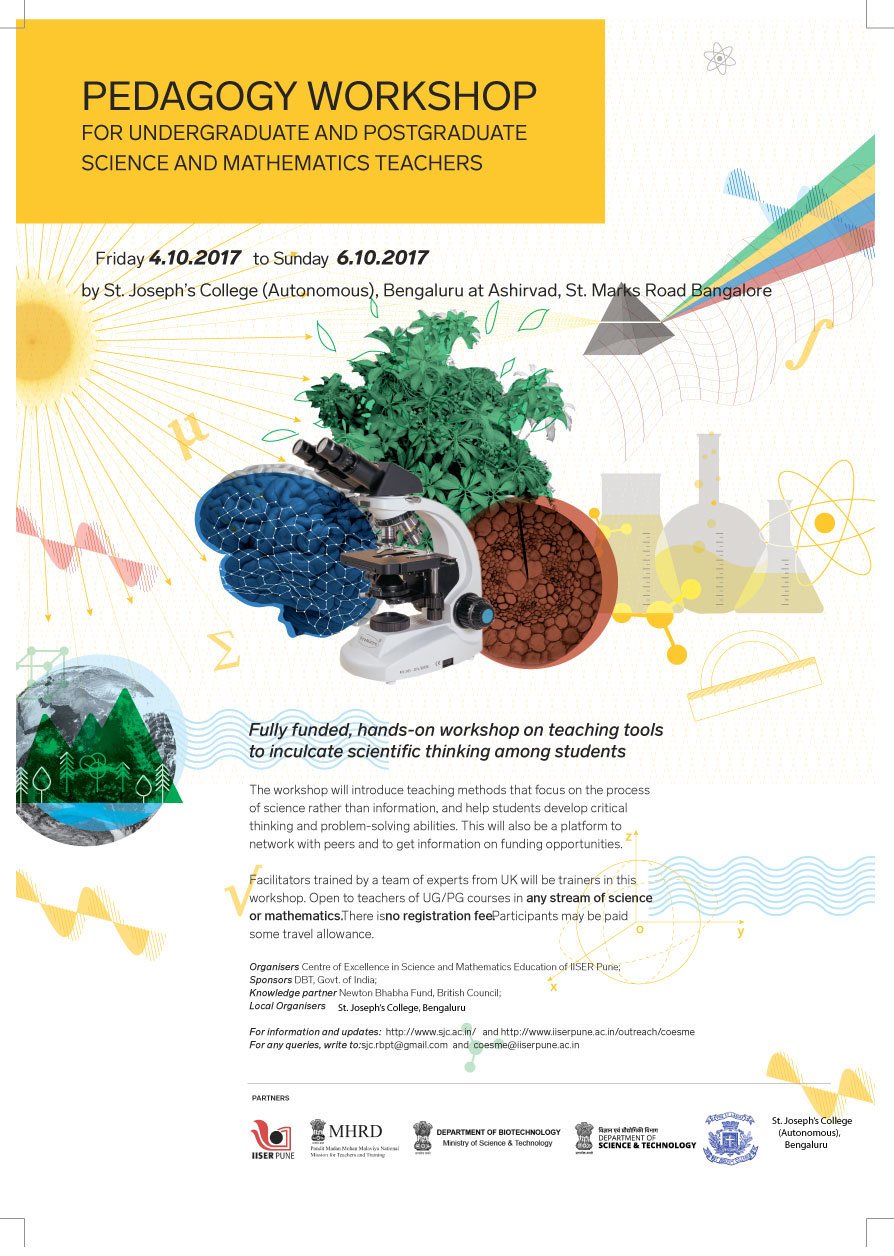 This is a fully funded, regional workshop, sponsored by the Department of Biotechnology (DBT), Govt. of India; organised by the MHRD-supported Centre of Excellence in Science and Mathematics Education (COESME) at IISER Pune.
Overview and Highlights:
* Conducted by a team of facilitators trained at two levels by experts from Sheffield Hallam University, UK, on design and use of Research-based Pedagogy Training (RBPT).
* For teachers of bachelors and masters courses in all disciplines of basic sciences (Physics, Chemistry, Life Sciences & Earth Science) and mathematics
* Hands-on workshops, which will introduce participants to research-based pedagogical tools that focus on the process of science rather than rote/ memory-based learning
* Opportunity for teachers to network with their peers from all over India and experts in the field
* No charges to the participants. Travelling Allowance will be given to selected participants

Eligibility :
Teachers teaching BSc/MSc courses with either a masters and 10 years of teaching experience OR a PhD with 5 years of teaching experience are eligible to apply. Highly motivated/exceptional candidates with lesser experience may be considered subject to selection criteria and availability of seats.
See announcement on IISER Pune website for further details. Selected candidates will be informed after the last date for applications.
Last date of registration is 15th Sep 2017.